One hundred and ten years ago, after the 1906 earthquake and fire destroyed most of San Francisco, Bank of America founder A.P. Giannini constructed a new hotel at 2237 Mason Street, close to the shoreline and shipyards at the edge of North Beach.
Giannini named his 62-room three-story Italianate Victorian the "New California Hotel" — an optimistic vision of San Francisco's rebirth.
Originally, immigrant Italians found refuge at the hotel and its street-level restaurant. A transient labor force was housed at the San Remo and recruited to rebuild the city. Free meals and rooms were given to many workers who assisted the city's recovery. Other guests were merchant seaman, waterfront workers, poets, journalists and pensioners. Penniless artists paid with their paintings.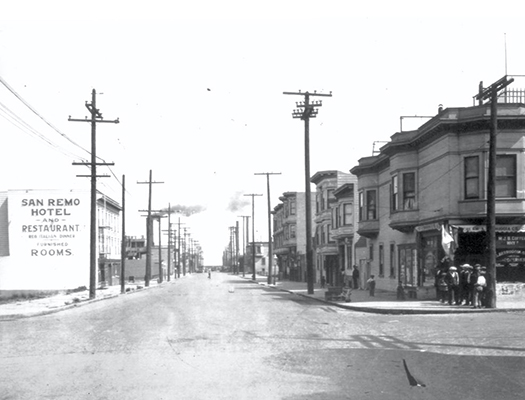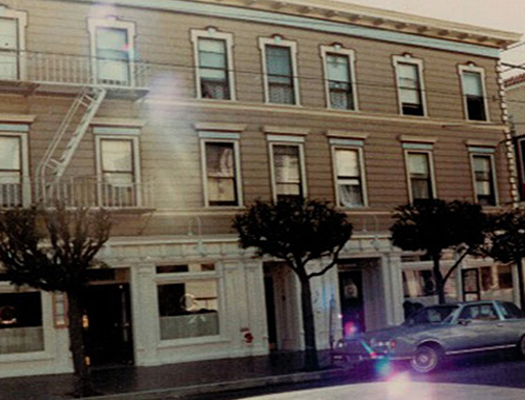 In 1922 the hotel was renamed the San Remo, after the name of a picturesque Italian town on the Gulf of Genoa and consistent with the Genoa-style meals prepared in the restaurant. Full course dinners were offered for fifty cents during the Depression. Eventually the San Remo became a North Beach neighborhood institution, one of San Francisco's last family-style eateries and watering holes where the famous and anonymous mixed with informality for much of the century.
Tom and Robert Field, brothers who have owned the hotel since 1971, continue the San Remo's long tradition of comfortable lodging, reasonable rates, turn-of-the-century charm and community service. In the spirit of Giannini, the Fields offered rooms without charge to victims of the 1989 Loma Prieta Earthquake whose homes were either destroyed or damaged.
The hotel ambiance is Old World: quiet rooms without phones or TVs, Victorian heirloom furnishings and hallways lined with historic photos, books and magazines. There are few concessions to modern times we offer free Wi-Fi as well as Coffee and Lemon Water. Guests share bath facilities, reminiscent of Europeanpensione-style lodging.
With a worldwide reputation as one of the city's enduring treasures, many international and domestic guests are return customers. The owners and staff of the century-old hotel are dedicated to providing a comfortable and memorable visit to Victorian San Francisco.