If you're young or thrifty, the San Remo Hotel may be your deliverance by the bay.
Built soon after the 1906 earthquake, the San Remo has 65 rooms, 64 of which share bathrooms down the hall. Most are tiny. No elevators. But North Beach is next door and the price is right. Rooms for two are typically $79-$139. Oh, and about the room that does have a private bath: It's called the Penthouse ($199-$249), because it's upstairs with its own terrace and a terrific view of Coit Tower.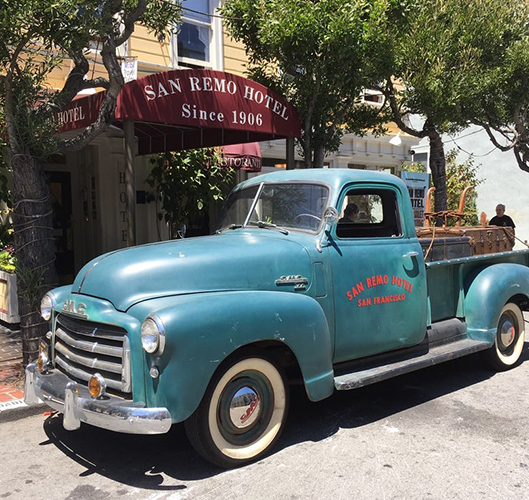 From the heights of a cable-car ride up Powell Street to the fog and surf of Ocean Beach, from the best burritos in America to a tour of a sourdough bread bakery on Fisherman's Wharf, San Francisco wows with natural beauty, world-class art, and a surprise around every corner.
Visiting San Francisco during its celebration of the 50th anniversary of the 1967 Summer of Love was appropriate for me on several levels. In fact, "love" is a word I've come to associate with San Francisco for most of my adult life. I first visited the City by the Bay with my then-girlfriend, Michele, and we got married and moved to SF two years later. Over the course of eight years in "the city" (as everyone from Big Sur up to Eureka refers to San Francisco), I came to love the morning fog, the often spooky-gray Pacific, the food (the Mission District's best-ever burritos in America, a wider variety of East Asian cuisine in Chinatown and beyond than anywhere I'd ever lived), the oasis of Golden Gate Park (we lived two blocks away), and the pinch-me weekend getaways (Muir Woods, the Sierra foothills, Sonoma, Santa Cruz, Monterey just a short drive away. So, sure, "Summer of Love." I didn't really have to think twice.
Luxe-for-Less Lodging
And while it's an admittedly stale construction for a travel writer to claim he found the "perfect" hotel for his destination, I stand by the notion that Michele and I stayed at the hands-down most appropriate hotel in San Francisco. The San Remo, at the top of the North Beach neighborhood just a few blocks from Fisherman's Wharf, was built in 1906 by Bank of America founder A.P. Giannini to house workers rebuilding the city after the devastating earthquake and fire. If that's not enough SF cred, in the 1960s and '70s, as the city became a mecca for young people seeking to escape what they perceived as stifling Middle American values, the hotel was revitalized by the very countercultural types that made the 1967 Summer of Love possible. Today, the San Remo is utterly unique among Bay Area hotels. You notice the vintage cars parked outside on Mason Street first, then the charming turn-of-the-20th-century architecture, then as you climb the stairs to the main floor you realize the hotel is styled after an Italian pensione with shared bathrooms, exquisitely decorated narrow hallways, cozy rooms, and a quirky, homey vibe you may have never found - and may never find - anywhere else your travels may take you. With rooms under $200/night and a penthouse under $300, the San Remo offers the style, authenticity, and value that every Budget Traveler craves.
Fisherman's Wharf
Waking up at the San Remo means you're a quick walk to exquisitely brewed coffee and fresh pastries at the Boudin bakery on the wharf before the hordes arrive. Boudin also offers a cool bakery tour where you can watch the unusual, labor-intensive process by which sourdough bread is mixed, kneaded, cut, and baked. In the early morning, the Golden Gate Bridge, Alcatraz, and fishing boats loom out of the fog on the bay. Vintage streetcars ply Jefferson Street. We loved exploring the wharf during the crowd-free hours, the barks of sea lions cutting through the fog all the way from their favorite perch at Pier 39. In the evening, the wharf can be a nice place to grab a bread bowl full of clam chowder, local craft beer, or a glass of Sonoma or Napa wine at a good price.
Bohemian North Beach
The San Remo's neighborhood, North Beach, is SF's Little Italy, which mostly means, of course, extraordinary food on every corner, from the fresh breads, cheeses, and cold cuts at Molinari's to snug cafes like Michelangelo Ristorante and Caffe for pasta dinners and desserts like gelato and cannoli at Liguria Bakery. For a decidedly more upscale (and totally worth-it) splurge, you'll find Fior d'Italia, the oldest continuously operating Italian restaurant in San Francisco, on the street level of the San Remo Hotel, serving up classic Florentine beefsteak, light-as-air pastas, a deep wine list, and live jazz by local music-scene veterans of the highest, swingingest order. Walk down Columbus Avenue to stop by City Lights bookstore, a must-stop for those who want to experience the roots of San Francisco's countercultural movement; the shop was founded by poet Lawrence Ferlinghetti in 1953 and became not only a bookshop but a book publisher and meeting place for people who care about literature. "It is as if the public were being invited, in person and in books, to participate in that 'great conversation' between authors of all ages, ancient and modern," Ferlinghetti famously observed of his shop.
Art & Eating Downtown
As charming as North Beach is (and I sometimes feel that I could be happy remaining at a cafe table on Columbus Avenue for days on end), we also loved hopping on a nearby bus to reach downtown in minutes. Our CityPass allowed us three full days' of complimentary public transportation, including MUNI buses and streetcars as well as the iconic cable cars that traverse Powell and Mason and California streets. Downtown juxtaposes old and new in jarring ways that may remind some visitors of London. Stately 19th-century structures stand side-by-side with early 20th-century tenements (some now converted into relatively stylish apartments to feed SF's insatiable tech-money-fueled real estate market) and sleek office towers like the brand-new SalesForce tower. Lunch or dinner downtown should include a stop in Chinatown, where shops like Good Mong Kok Bakery and Hon's Wun Tun House serve world-class noodles, seafood, and dim sum.
On our way to the San Francisco Museum of Modern Art (SFMOMA), we grabbed lunch at Oasis, on Market Street, serving Middle Eastern favorites like falafel to a young, fast-moving lunchtime crowd. SFMOMA is one of those perfect museums whose exterior and interior design thoroughly complement the vibe of the art collection and the spirit of the neighborhood. Gallery spaces are expansive and uncluttered, showcasing the work of modernists from Matisse and Picasso up through pop artists like Warhol and Rauschenberg, plus provocative new work by contemporary artists. I especially loved Nam June Paik's "Self Portrait," which features a vintage television set displaying video of the artist's face obscured by a screen spray-painted with graffiti.
Golden Gate Park
A streetcar ride from downtown out into "the avenues" took us to the DeYoung Museum, in Golden Gate Park, which made the excellent Summer of Love Experience exhibit the focal point of its 2017 offerings. The exhibit celebrated the fashion, visual art, and music of 1967 and of San Francisco's Haight-Ashbury neighborhood, the epicenter of hippie culture (something that, post-exhibit, visitors can do by visiting the nearby crossroads of Haight and Ashbury streets for vintage clothing stores, funky boutiques, and a decent helping of latter-day hippie types). The DeYoung's rooftop observation tower almost steals the show, affording visitors a 360 view of what is widely regarded as the most beautiful city in America. The view turns grownups into kids, marveling at the downtown skyscrapers in the distance, the Golden Gate Bridge to the north, and the fog crawling back in from the Pacific along the avenues of the Sunset and Richmond districts. The tower also reminds you of all the attractions right there in Golden Gate Park, including the peaceful Japanese Tea Garden; the dinosaurs, hands-on exhibits, and dioramas of the California Academy of Sciences Museum; and the incredible Botanical Garden, which gives you a sneak peek at California's many climates and landscapes (desert, coastal redwoods, old-growth forest…) all within a short walk of the DeYoung. After living near Golden Gate Park for eight years in the '90s, we're partial to Pasquale's pizzeria on Irving Street, and it remains a neighborhood favorite and relative "best-kept secret" for San Franciscans and visitors seeking California-fresh toppings like garlic, onion, bell peppers, and other veggies at a reasonable price.
Ocean Beach
Another quick streetcar ride took us westward on Judah Street to Ocean Beach. If you've never been to SF's massive stretch of oceanfront, prepare to be surprised: This is not your sunny Southern Cali beach by a long shot. But if you show up prepared for fog in the morning, late afternoon, and evening (and possibly every hour in between), temperatures in the 50s, and relentless gray waves and warning signs that tell you flat-out that you'll die if you try to swim here, you can learn to appreciate it the way locals do. When I lived in San Francisco, I often started my work day with a trip to Ocean Beach, the fog and cold and relative isolation waking me up better than any cup of neighborhood French roast ever did.
Yes, Take a Guided Bus Tour
I have one more recommendation, and a little confession to make. When Michele and I lived in SF, we would never have considered taking a double-decker guided bus tour of the city. I mean, that's what tourists do, right? But when we realized that our CityPass included hop-on-hop-off privileges, we gave it a try. And we are so glad we did. From our perch on the top deck, we took in familiar sights in a new way and learned history and trivia we'd never heard before (for instance, the clock tower on the Ferry Building at the foot of Market Street, now known for its incredible food market, survived the 1906 earthquake), and because we were enjoying the ride so much we didn't actually pay attention to the route, we ended up getting an unexpected ride across the Golden Gate Bridge in the fog. If you've never zoomed over the bridge from the second story of a bus, there's a lot of vertigo-inducing activity on the bay you've missed.
No, four days in San Francisco were not enough. While you can manage to squeeze most of the city's sights into a day trip if you have to, you can also spend a week, a month, a year, getting to know this complex, ever-evolving melting pot. Whether you're seeking some kind of transcendence like those kids who headed here back in 1967, or just a great crab salad with sourdough bread and a reasonably priced Sauvignon Blanc, or, like most of us, something somewhere in between, I hope you'll enjoy your own Summer of Love in San Francisco sometime soon.